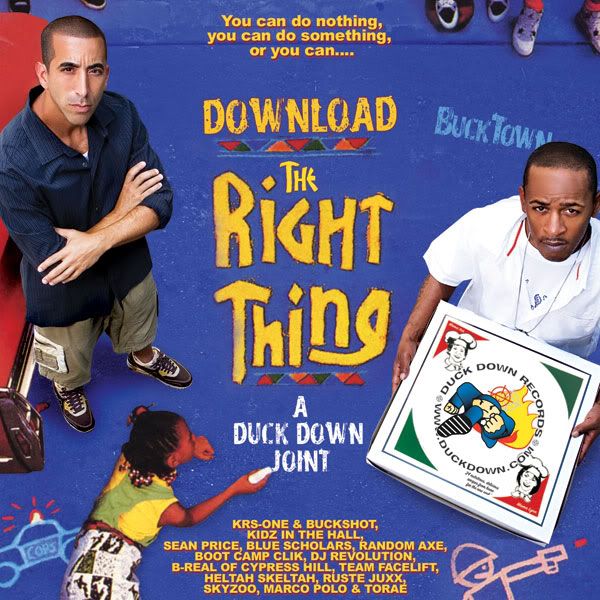 Head on over to
Duck Down Records'
official site to
download a copy of their new sampler "Download the Right Thing"
. It's a great roster of some of the best underground rap artists and groups in the industry today.
Duck Down is probably one of the most underrated and under appreciated underground rap labels of the past 20 years. They continue to put out great music and introduce new artists year after year but unfortunately that tends to fall under the radar in the new iTunes hit single focused music industry. If you appreciate good and original Rap/Hip Hop and need something new to quench your thirst, download a copy immediately.
TRACKLIST:
01. Go Around - Marco Polo ft. Buckshot
02. Start The Revolution - DJ Revolution ft. Boot Camp Clik


03. RuckDown - Sean Price
04. Interlude - Buckshot
05. Survival Skills - KRS-ONE & Buckshot ft. DJ Revolution


06. D.I.R.T. - Heltah Skeltah


07. Monster Babies - Random Axe
08. 6 Minutes - B Real


09. FreshFest - Skyzoo ft. Wale
10. Mixed Emotions - Team Facelift
11. Interlude - Kidz In The Hall
12. Back On The Map - Skyzoo ft. Maino
13. HI-808 - Blue Scholars


14. StarStruck - Naledge


15. Coo - Blue Scholars


16. Beautiful Decay - Skyzoo
17. New Love - Tek of Smif N Wessun
18. Smoke - Marco Polo & Torae ft. Rock & Lil Fame
19. Get Mines - Oh No ft. Buckshot
20. Interlude - Buckshot
21. Robot - KRS-ONE & Buckshot
22. Duck Down - Ruste Juxx


23. Critically Acclaimed - Statik Selecktah ft. Lil Fame, Saigon & Sean Price
24. Get It Done - Skyzoo & Torae ft. DJ Premier
25. The Matrix - Black Milk ft. Pharoahe Monch & Sean Price
26. Hold Up - Marco Polo & Torae ft. Masta Ace & Sean Price


27. Interlude - Naledge of Kidz In The Hall
28. No Love - Team Facelift
29. Toast To Bucktown - General Steele ft. Buckshot


30. Flickin' - Kidz In The Hall


31. Duck Down (Bonus Track) - Sean Price ft. Torae & Skyzoo