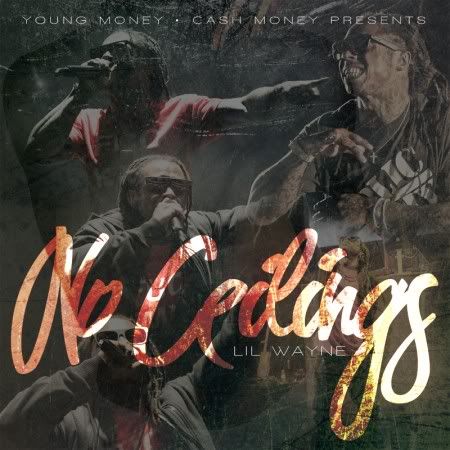 The new Lil Wayne mixtape "No Ceilings" is now available for download from all of the usual sketchy fiel sharing sources. Download ASAP before the links go dead. L
Lil Wayne - "No Ceilings" Mixtape DOWNLOAD
Source 1
Source 2
Source 3
I haven't had a chance to listen to it all yet but so far it's pretty hot. This might be the last time you hear new material from Weezy for awhile since he's most likely
headed to jail on gun charges for an 8 month bid in NY
. It does sound like he might not be sentenced until 2010, so he still has time to pump out some new music to hold us over.
TRACKLIST
01. Swag Surfin'
02. Ice Cream Paint Job
03. D.O.A.
04. Interlude
05. Wasted
06. Watch My Shoes
07. Break Up (Ft. Short Dawg & Gudda Gudda)
08. Banned From TV
09. Throw It In The Bag
10. I Think I Love Her (Ft. Tyga & Shanell)
11. Interlude 2 (Ft. Shanell)
12. Wetter
13. I'm Good (Ft. T-Streets)
14. Make Her Say (Ft. Jae Millz)
15. Run This Town
16. I Gotta Feeling
17. Outro
Bonus Video: The Making Of Lil Wayne's No Ceilings Mixtape! + Acapella Over Jay-Z's D.O.A.
DjRyB.com - Addicted to Sneakers, Sports, Hip Hop and Gadgets